More and more in the world today, people have high expectations that things should happen instantly. When it doesn't one is likely to lose patience.
But everything takes its own time. Like when we are cooking a meal, we need to wait for the vegetables to cook properly, otherwise it would not be ready to eat.
Once the proper technique to meditate is known, we need to simply apply the technique and adopt patience. If we are in a  rush and demand that the result should come here and now we will become frustrated and end up giving up the practice.
Babaji mentions that patience gives you 'the ability to bear with, wait and go for the actual result'.
In meditation, the actual result is achieving that elusive peace and happiness, that contentment. This happens when we go on practising the technique to just watch. Our mind becomes more and more concentrated, settles down and becomes quiet. Then we can experience that real peace.
Click the video above of Meditation Master Shiva Rudra Balayogi (Babaji) talking in detail about the importance of patience.
Meditation and Q&A with Babaji
We have weekly meditations and Q&As every Saturday with Shri Babaji live online.
Saturdays 12.45pm BST
1 hour Meditation and Q&A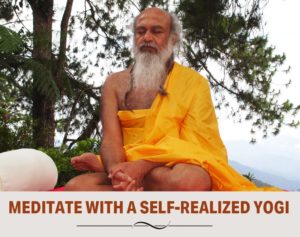 These are precious opportunities to meditate with a Realized Master and benefit from the special teaching and guidance that Babaji can provide.
Register your place here