Meditation Retreat, October 2018
We are holding our annual retreat focusing on meditation and spiritual practice in October on Friday 19 – Sunday 21.
If you have attended a Jangama course you are very welcome to come for either one day (Saturday 20th) or the whole weekend (19,20,21).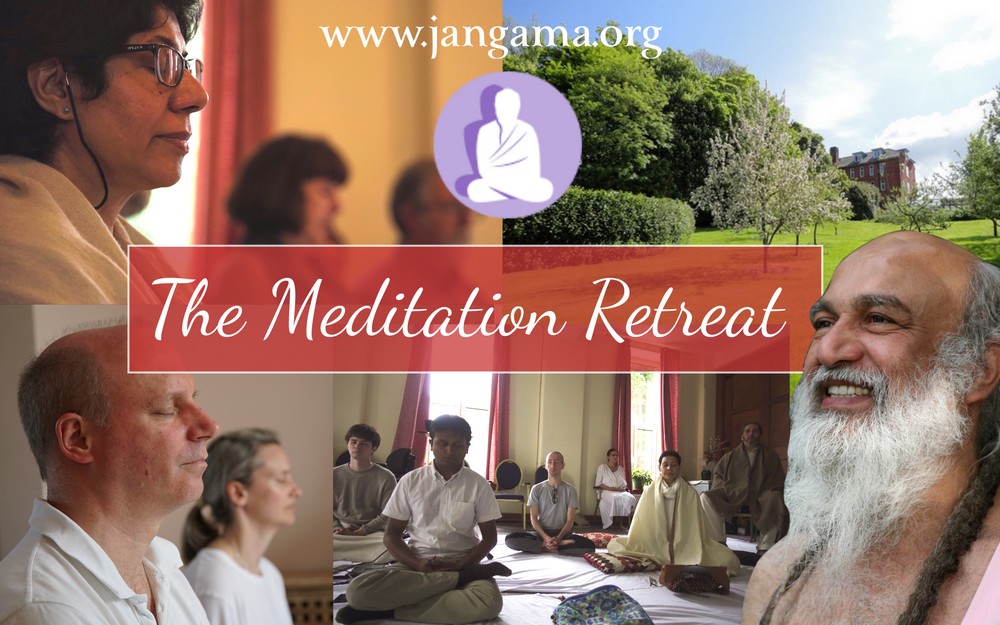 This retreat is a wonderful opportunity to withdraw from the routine of daily life, to focus fully on meditation practice in a conducive atmosphere, amongst like-minded people and in a beautiful countryside.
This is also a very rare and precious opportunity to receive direct guidance from Babaji live via internet conference, who has attained the ultimate in spiritual practice, Realisation.
Question and answer sessions with Babaji give a chance for spiritual doubts to be cleared.  Those who have attended in previous years will know how uplifting and inspiring these sessions are.
There are a variety of activities so you can create a schedule of activities to suit your needs and abilities.
Video of some testimonials from a previous Cold Ash Retreat.
The Retreat
The Cold Ash Centre, The Ridge, Thatcham, Berks RG18 9HU
Friday 19 Oct – Sunday 21 Oct 2018
Either come for one day (Saturday 20th) or the whole weekend (19,20,21)
Please note that this is a silent retreat. This means that all talk will be kept to a minimum, only speaking when necessary. This can enable us to dwell in the silence between the meditations, prolonging and deepening the purifying effect on the mind.
Group meditations will be scheduled throughout the day in the main room.
Videos of past talks and question/answer sessions from Babaji will be shown in a separate room.
A reading room will be available with various books about meditation.
The venue is surrounded by beautiful countryside, providing an opportunity for walks.
You are welcome to come for the whole weekend retreat, or just one day.
Please note that this retreat is suitable only for adults.
The Venue
Cold Ash Centre is situated in the beautiful countryside of Berkshire, near Thatcham, easily accessible from the M4. It is a place of peace and tranquility and is surrounded by woodlands and extensive fields. It is run by a Community of Franciscan sisters.
More details about the Centre can be found at: http://www.coldashcentre.org
Nearest Train Station: Thatcham
Trains: From Paddington changing at Reading
Half hourly approx
50 – 65 minute duration (depends on train selected)
Distance from Retreat Centre: 3.5 miles (10 minute drive)
How to get from Thatcham Station to the Retreat Centre:
Contact us before booking the train and we will arrange to collect you from the station, and return you at the end.
The Accommodation
All rooms are single, not en-suite and will be allocated on a 'first come, first served' basis – based on when a completed form and payment is received.
All meals are vegetarian.
Please let us know of any special dietary needs when booking.
The cost
A single room (not en-suite) for the weekend (Friday 5pm to Sunday 3pm) including all meals is £180.00.
The cost for one day (Saturday) is £60.00.
Babaji's Mission never charges for spiritual instruction – the cost covers only retreat expenses.
Application form
(2 version are available PDF or Microsoft Word)
uk_retreat_form_2018.pdf
uk_retreat_form_2018.doc
Payment
Payment can be made by Bank Transfer, Cheques, Credit/debit card or PayPal.
(See above application form for full payment details)
Any questions about the retreat, the accommodation etc
please email uk@srby.org or phone Michael on 07900 217093