Shiva Rudra Balayogi (Babaji)
Shiva Rudra Balayogi, or Babaji as he is affectionately known, is a Meditation Master based in India.
From a young age he always thought that true happiness is our birthright; it should be there at all times. Why does it fluctuate from happiness to unhappiness all the time? It should be possible to be happy all the time. When he was about 7 years old he heard his sister singing one day and the words resonated deep within him:
'When death comes to your physical body, none of your wealth, health or knowledge can come to your rescue'.
"What is the meaning of this death?" He thought, "Are we this physical body that is born and dies, or are we something more?"
He had heard the stories and teachings of some great spiritual Masters and he longed for a living Master of the same calibre who had achieved the ultimate in spiritual practice and could lead him to achieve the same.
More information on Babaji and His teachings can be found at His Website.
Watch videos of Babaji Q+As on His Youtube Channel
Shivabalayogi (Swamiji)
Swamiji (Shivabalayogi) is one of the great Meditation Masters India has produced. Babaji met Swamiji at the age of 16 and it was love at first sight, and he knew he had found his Master. He waited 3 years to finish his studies as requested by his mother, who then gave her blessing for him to be trained full-time by Swamiji at His ashram in Dehradun in northern India.
Swamiji trained Babaji in many ways and taught him the Jangama Meditation technique (one of the most ancient techniques taught in India). After twenty years of spiritual training Babaji entered a long period of intense meditation called Tapas for 5 years. In 1999, at the end of this period, his mind was settled effortlessly in itself, having overcome all cravings and achieved perfect awareness of itself as the infinite consciousness, beyond the birth and death of the physical body.
Since then Babaji has continued his Guru's Mission to teach meditation and spiritual practices. All the teachings are free of charge, all he requests is that people are sincere.
More information on Swamiji and His teachings can be found on Babaji's website.
Meditation and Q&A with Babaji
Join the weekly meditations and Q&As every Saturday with Shri Babaji live online.
Saturdays
United Kingdom – 12.45pm BST
India – 5.15pm IST
Europe – 1.45pm CEST
Australia/Malaysia/Singapore – 7.45pm
AWST/MYT/SGT US – 7.45am EST / 4.45am PST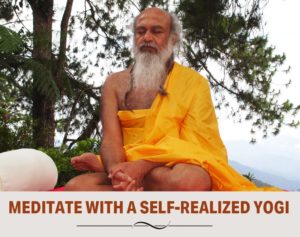 These are precious opportunities to meditate with a Realized Master
and benefit from the special teaching and guidance that Babaji can provide.
Register your place here