The Meditation Course
All courses will now be held online for the foreseeable future while the current situation with Coronavirus exists.
Our meditation course explores the benefits of meditation for daily living as well as the path leading to Self Realisation – the ultimate goal of spirituality.
We emphasise the practical aspect.  It is important to know what to do when we sit to meditate otherwise we will see no effect.  In each part of the course we clearly explain the technique of meditation – how to do it and how it works – and we always have a practice session of meditation.
The course content is drawn from the first-hand experiences in deep meditation of the meditation master Shiva Rudra Balayogi and we are very fortunate to be able to share this great wisdom with you.
All courses are run by volunteers who have been trained and guided by Babaji and in the tradition of the great spiritual masters, all courses are free.
Book your place
The timings shown are GMT (Greenwich Mean Time).
The Meditation Course is 6 sessions (1 session a week).
Starting on Sunday and repeated on Tuesday. You can book for either day.
Sunday afternoon 2.00-3.00pm GMT – Online Course
All our courses and classes are free of charge, donations received with thanks. You don't need to bring or wear anything special, just dress comfortably so you can sit for short periods of meditation. Please contact us if you have any accessibility requirements.

Weekly Group Meditations
Once you have attended our course we encourage you to attend a group meditation once a week.
We run weekly group meditations for beginners or experienced meditators.
This will help and motivate you with your practice.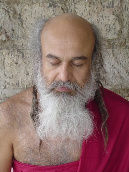 Shiva Rudra Balayogi (Babaji)
Baba Shiva Rudra Balayogi is a meditation master based in the foothills of the Himalayas, where he studied and practised for over twenty years under the guidance of his guru, Shivabalayogi Maharaj.
The Jangama Meditation courses are run by volunteers in the UK who have been trained and are guided by him to freely share the teachings of meditation with any who wish to learn and practice.
More information on Babaji can be found at www.srby.org